Alright, folks.
On my myspace page, I have a list of my top ten favorite TV shows. I updated it earlier, but before the update the list looked something like this:
--01. Firefly
--02. Gilmore Girls
--03. The Office
--04. What Not To Wear
--05. Lost
--06. Coupling
--07. Grey's Anatomy
--08. The Daily Show
--09. Project Runway
--10. Beverly Hills, 90210
--11. Heroes
I know that's actually eleven shows, but I still call it my top ten. Because that's how I roll.
I first created my list of television favorites about a year ago. At that time Lost was sliding downhill, I knew it, but I still had hopes for the show. That's why I put it at number five. I still cared about what happened to the characters. I watched every week. Not anymore.
Don't get me wrong. I still watch every week (except for hiatus, obv). But my viewing habits are no longer fueled by my feelings towards the characters and my desire to see how the mystery unfurled. Now I watch out of a sick curiosity to see how the writers are going to dig themselves out of this hole. I'm no longer viewing under the delusions that the writers know what they're doing. This show drops storylines like no other show I know.
Since I no longer consider Lost one of my favorite shows, I had to replace it. I don't know why I didn't add this show to my list sooner, because I have been watching regularly for a while now, and I talk about it all the time. I'm one of those people that talks about soap characters like they are real people. Those of you that know me know that my soap is General Hospital. Those who know me well know that my family is the Spencers. This is the picture I almost chose for my list: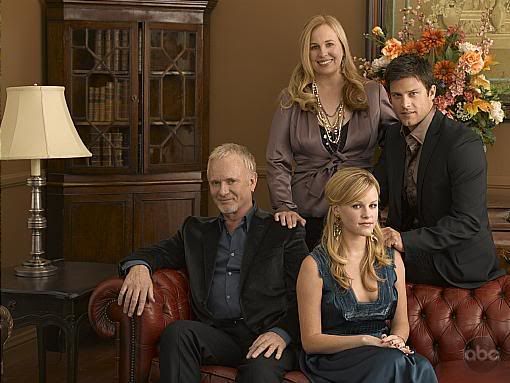 Luke and Laura (the Ultimate Supercouple), and their two children, Lucky and Lulu. A beautiful family, right? Now, I know they're actors playing characters, but don't you agree that Julie Berman (Lulu) looks like she could be the love child of Tony Geary (Luke) and Genie Francis (Laura)? I really hope Genie comes back to the show to stay, because Luke and Laura should be the central characters on the show. Tony Geary and Genie Francis have been on the show since the '70s, and their wedding in '81 is still the most watched soap event of all time, with something like 3 million viewers. I mean, who wouldn't want to tune in to see that hair and that veil?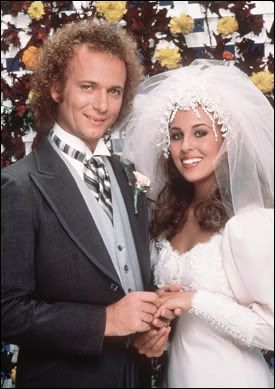 To paraphrase Mr. Geary, I think that giant flowery thing was stapled to her head.
The picture I ultimately chose was this one from around 1993, because it might possibly be the greatest picture ever taken.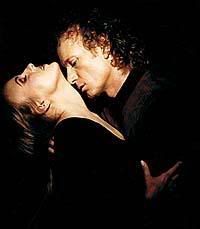 That's hot.